How can EMT help you?
If you have an enquiry please enter your details below or contact us.
Energy Metering Technology Ltd
>
Products
> DATABIRD
DATABIRD
Automatic Meter Reading System
DATABIRD is an automatic meter reading system that physically interfaces with the utility meters on the site and feeds consumption data usually via wireless communication to a central logger.
What are the Benefits of Automatic Meter Reading (AMR)?
The benefits are significant. Manual reading is expensive, time consuming and as a consequence irregular. As a proven AMR system, DATABIRD is simple to install, inexpensive to run and reliably collects, collates and transmits energy and water readings. AMR along with the use of analysis software is referred to as 'Automatic Monitoring and Targeting' (aM&T) please see "aM&T Factsheet.
"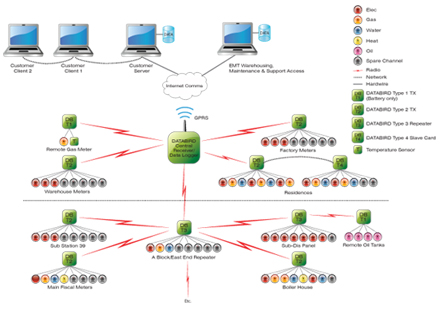 DATABIRD Features
Multi-utility meter reading: electricity, gas, water. DATABIRD can monitor ANYTHING that is metered.
Flexible comms infrastructure
Uses 'license free radio' and GPRS
Multi powering options including solar
Compact and vandal resistant
Simple temperature sensings
Remote service contracts
For DATABIRD features and technical specifications please download our brochure. A concise factsheet on 'How the DATABIRD System Works' is available "here.
A recent consultant's report following the installation of DATABIRD in a Scottish Local Authority.
"The equipment has proved to be reliable and providing the required data. Where other companies systems are new and unproven in the field DATABIRD is a proven technology and in use by other Councils on a large scale and proving to be extremely successful."